Halloween costume party anyone? My hubby and I have gone to an adult costume Halloween party for the past three years. It has been fun trying to figure out what we will wear as a couple. I like to do DIY costumes–it's usually cheaper and more unique. We have yet to win the costume contest, but maybe this is our year. I hope you enjoy this list. The first three are my hubby and I, the rest are links to other cool costumes that caught my eye.
1. Their Royal Highnesses, Posh & David Beckham
Posh (Victoria) and David Beckham were very easy to pull off. My hubs had the LA Galaxy "Becks" jersey already. We got him a cheap pair of sunglasses and gelled up his hair. I got a Posh wig and wore big, bug-eyed sunglasses with a cute, chic red jacket. The Beckhams loved posing for the paparazzi.
2. Homer and Marge Simpson
The next year we were the Simpsons. They weren't quite as easy as the Beckhams, but a lot of fun. For Marge, I rolled a poster board into a cone cylinder shape and stapled together after measuring on my head. I cut out notches around my ears. I then glued polyester batting all around the cylinder and across the top to simulate hair and then I spray painted the whole thing blue. For Marge's necklace, I strung together red pom poms on thread. I wore a green, off-the-shoulder shirt that I had with a black skirt and red pumps. For Homer, we found a mustard yellow winter beanie cap. I sewed fuzzy black yarn on the sides like hair and stuffed the top of the hat with extra batting. My hubby wore a long-sleeved yellow t-shirt under a white polo and yellow work gloves. We then used yellow body paint all over our exposed skin and drew on cartoon eyes and a beard using face paint. The Simpsons were a big hit!
3. The Solos, Hope & Han
Last year we went as Hope Solo, Women's US National Soccer Team Goalie who had been on Dancing with the Stars, and Han Solo, you know, from Star Wars. For Hope, I purchased a cheap evening gown at the thrift store. I then added some boas and feather hair pieces to my long black wig. Oh, and of course, goalie gloves that said Hope Solo on them. For Han, we put together a linen shirt with a black vest. The Hubs then wore his black soccer pants (they are form-fitting) and boots. He then spray painted one of our kids Nerf guns black. Viola! The Solos were created!
4.
Silent Film Stars
I thought this was such a cool and fairly easy costume. Can't wait to try it!
5. The Bra Couple
I couldn't find directions for this, but I think it looks pretty easy. For the "bra" part, buy a couple of mens t-shirts to cut up. I'm assuming bouncy balls were used for the boobs.
6. Where's Waldo?
If you don't want to mess with a lot of make-up and you want to be comfy, this costume is for you. I've seen Waldos with cameras around their necks and/or back packs on their backs. Very cute costume.
7. Alfred Hitchock's "The Birds"
These costumes would be a blast to make. Just go check out your local thrift store for the clothes and then your local craft store for the birds and paint.
8. Live Cartoon
This looks like a lot of face painting, but could be very cool. For the male counterpart, dress him in similar "cartoon" clothes with face and body paint and have him talking on the phone with a talking bubble on his face saying, "Oh, Barb…I love you so much."
9. The Big Bang Theory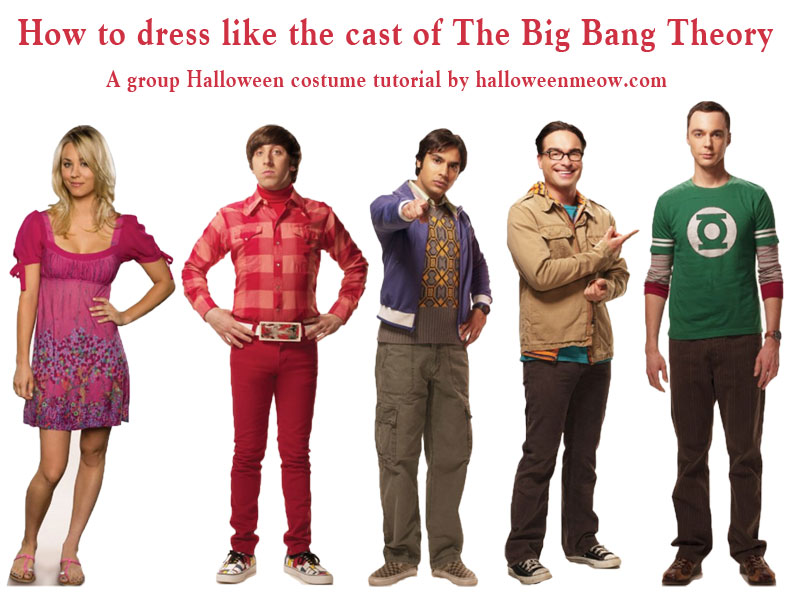 My family loves the Big Bang Theory. It would be hard to figure out which guy I would want my hubby to be. I think it would be a tie between Howard (turtle neck) and Sheldon (king of nerd t-shirts). For Penny, you might want to put a name tag on her so people know who she is. She does work at the Cheesecake Factory so you could wear that uniform.
10. Words with Friends
This looks fairly easy and comfy. You would need t-shirts, printable t-shirt transfer sheets and a computer program to design the Words with Friends graphics.
Hope you have a great Halloween and have a blast dressing up!