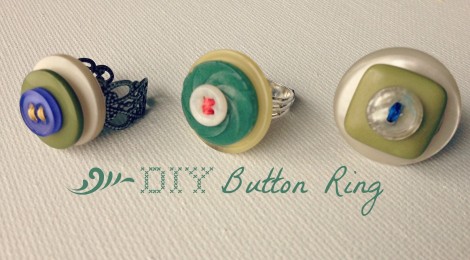 I love button rings! Not only are they perfect for spring, but they are so easy to make. These button rings have that bohemian, Anthropologie, vintage, cool look that I love. Make one for Mother's Day to give to your mom. Make one for your kid's teacher. Make one for your best friend, daughter or sister. But most importantly….make one for yourself! Enjoy!
What you will need:
Buttons (I used old buttons that I had lying around but you could get these…Buttons Bucket)
Needle and thread (use a fun color of thread)
Scissors
A ring base (check these out…Metal Blank Rings Base 50 Pieces)
Glue gun
A twinkle in your eye

Instructions:
1. Find three buttons (smallest on top, medium, to larger on bottom) that you can stack and you like the colors.
2. Thread the first two buttons together with a fun color of thread. I doubled up my thread to make it stronger.
3. Hot glue the two threaded buttons onto the third button.
4. Hot glue the buttons onto the ring base.
5. Look at your awesome work and sigh with glee!
Don't feel like making a ring, then check these out:
Oversized Vintage Look Multi-Color Rhinestone Butterfly Stretch Ring

Fun ZAD Retro Cassette Tape Fashion Ring Antique Silver Tone

T Tahari Surfboard Coral Stretch Adjustable Ring

Lucky Brand Turquoise Floral Ring