I try to make DIY Halloween costumes for my boys, so I always start brainstorming early to give myself enough time to actually finish before their school party. I've researched and researched and came up with these 15 Coolest DIY Halloween Boys Costumes – Part 2. With any of these costumes, your boys will rake in the Halloween candy. Enjoy!
1. MineCraft Steve from Me…Cul-de-sac Cool and a little help from

Mama Needs a Hobby

!
My youngest was Steve from Minecraft last Halloween. I found a great blog that had a template and instructions on how to make your own MineCraft Steve at Mama Needs a Hobby. I printed off the head templates and glued them on a box then cut out the eyes. Finding a box the right size was the hardest part. I then spray painted two small kleenex boxes a peachy-flesh tone. I cut holes in the bottom of the kleenex boxes. My son then just slipped his hand through the holes to make MineCraft square hands. He wore a blue shirt with a name tag, and viola, he turned into MineCraft Steve!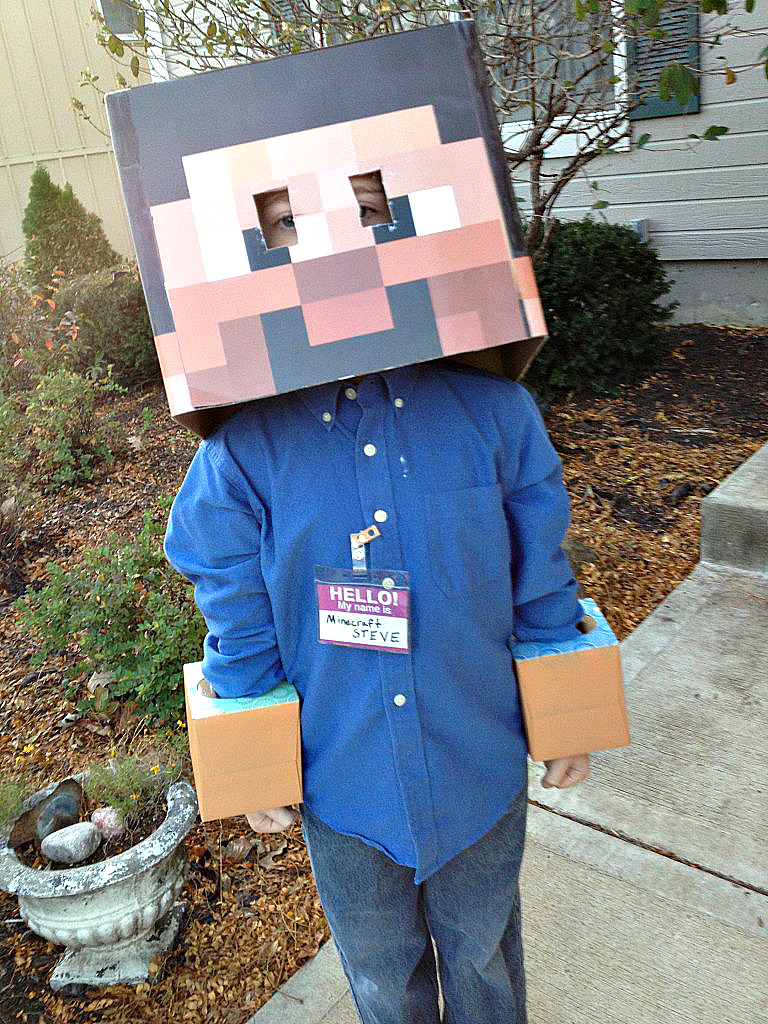 If you don't feel like making your own Minecraft costumes, then check these out:
Minecraft 12″ Steve Head Costume Mask

Official Minecraft Creeper Head Cardboard Mask 12 Inches By 12 Inches

Minecraft Foam Sword
or Minecraft Foam Pickaxe
2. League of Legends Teemo Costume from

Deviant Art
If you don't feel like making your own Teemo costume, then check this out: League of Legends LOL Teemo Cosplay HAT Cap Costume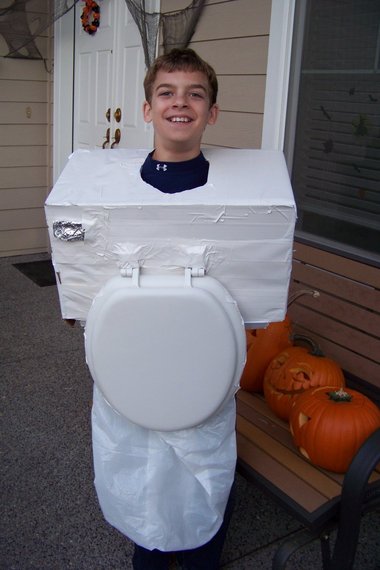 If you don't feel like making your own toilet costume, then check this out: Toilet Child Costume Size 7-10
4. Milk Jug Storm Trooper from

Filth Wizardry
If you don't feel like making your own Storm Trooper costume, then check this out: Star Wars Stormtrooper Child Costume
5. Despicable Me Costume from

Make and Takes
If you don't feel like making your own Despicable Me costume, then check this out: Despicable Me Child's Costume, Minion Dave Costume
6. Hoodie Monster from

Fiskars
If you don't feel like making your own Monster hoodie, then check these out:
Creature Hoodie Child
Volcom Boys 2-7 One Eyed Monster Full Zip Hoodie

Monsters Boys 2-7 Sully Fleece Hoodie
If you don't feel like making your own Clark Kent costume, then check this out: Kids Clark Kent or Superman Costume
8. Lego Star Wars Costumes from Everyday Mom ideas
If you don't feel like making your own Lego costume, then check these out:
Lego Collection Vampire Minifigure Costume

Lego Ninjago Boys 8-20 Hoodie

Lego Ninjago Boys 2-7 Ninjago Uniform Style Pajama
9. Candy Box Costumes from

MayDae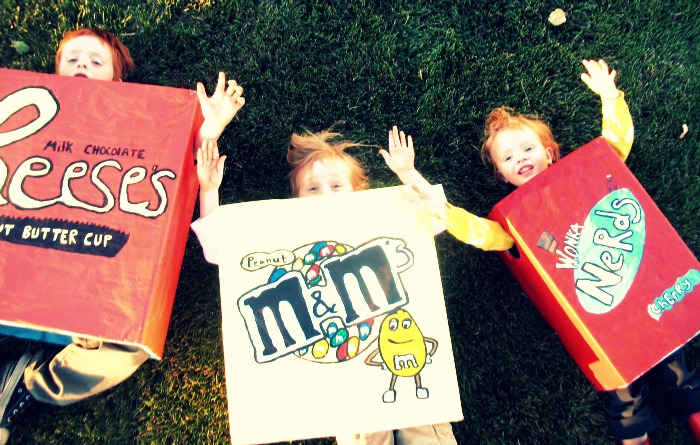 If you don't feel like making your own Candy costumes, then check these out:
Nerds Box Costume

Fun Dip Package Costume
If you don't feel like making your own Super Hero costumes, then check these out: DC Comics Boys Action Trio Superhero Costume Set
If you don't feel like making your own Fish Bowl costume, then check this out: Iridescent Gold Fish Costume Hat
12. Strong Man Costume from

Tip Junkie
If you don't feel like making your own Strong Man costume, then check these out:
Muscle Shirt Halloween Costume

Barbell Inflatable Party Accessory

Child Strongman Costume
If you don't feel like making your own Crocodile costume, then check these out:
Child's Crocodile Costume Hat

Child's Crocodile Halloween Costume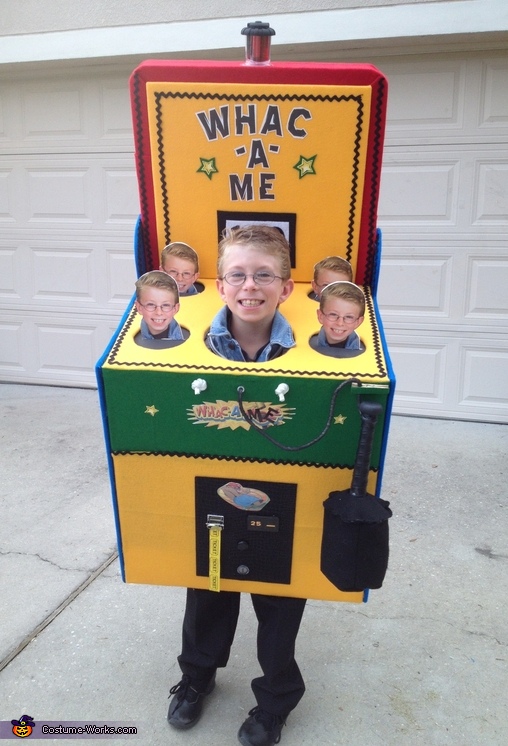 If you don't feel like making your own Wack-A-Me costume, then check these out:
Rubik's Cube Child Costume

Star Wars Childs Inflatable Tauntaun Costume
15. Hoodie Shark from

Fiskars
If you don't feel like making your own Shark hoodie, then check these out:
Lil' Man-Eating Shark Children's Costume

Shark with teeth Mask (Foam)

Vertical Shark Hat