My parents just celebrated their 5oth wedding anniversary. Go ahead and applaude…they deserve it! To mark this momentous event, I wanted to make them something. I saw this adorable post on Pinterest from The V Spot and knew this is what I would make…just simplified. This is not only a great anniversary gift, but would be a great wedding or Valentine's Day gift too. When my middle son saw the gift, he exclaimed, "Gross!" I don't think he understands what spooning is (LOL), but the happy couple thought it was "Sweet and clever!"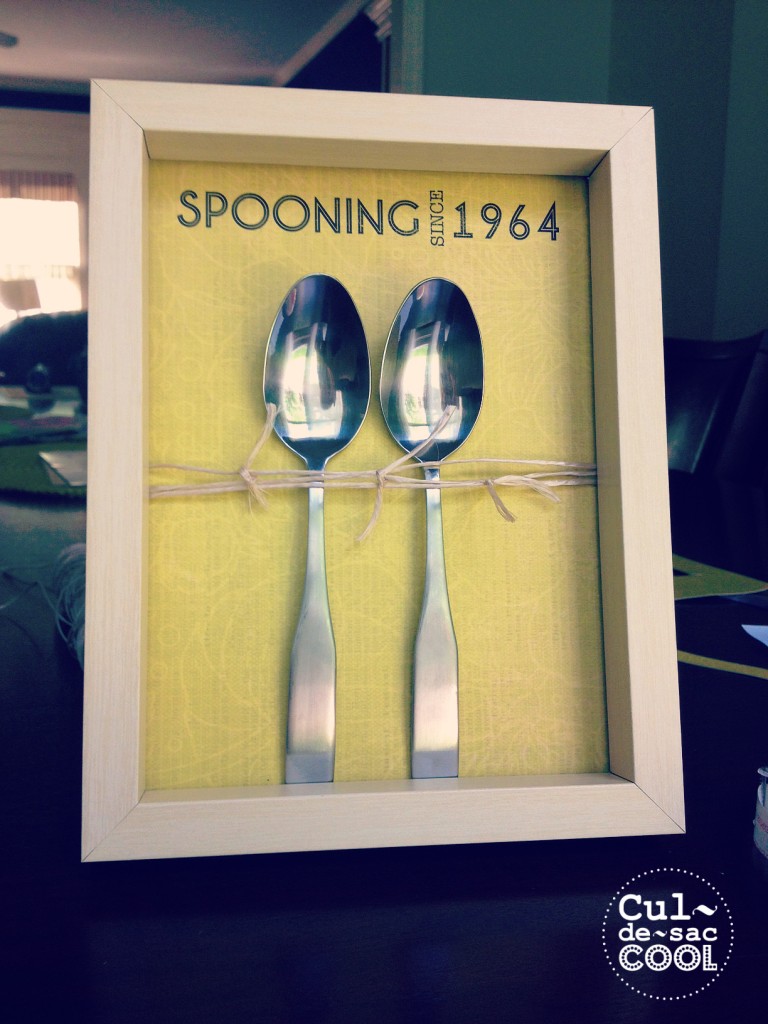 What you will need:
Instructions:
1. Take the glass, paper and matte out of your frame and set aside. You will not be using them.
2. Using your computer and a word-processing program, begin laying-out your "Spooning Since [insert year]" text. I did several rough drafts to get mine just right. Once you have something that will work, print your text on some pretty craft/scrapbooking paper.
3. Cut your printed paper to fit the backing of your frame. Using your spray adhesive, glue your printed paper to the frame backing so the printed side shows through the frame.
4. Use a strong adhesive or hot glue gun to attach your spoons to the frame backing.
5. Tie twine or ribbon around your spoons and the backing of the frame. Insert into the frame.
6. Watch the smiles fly when your gift is opened!