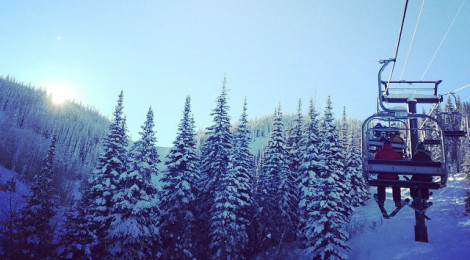 A family ski vacation isn't a VACATION.
I'm not going to sugar coat it. There is no laying on the beach drinking a fruity cocktail while your children frolic in the waves. There is no strolling down a quaint street holding your child's hand while window shopping. There are no character breakfasts or museum tours.
A family ski vacation is an ADVENTURE.
It consists of lots of packing, some tears, sore muscles, some fighting, some laughing, some amazing views, scary weather, beautiful weather, ice packs, lost poles, lost kids, found kids, cold toes, runny noses, amazing accomplishments and down-right fun. Through the ups and downs of skiing with your family, your family will push themselves physically and mentally. You will grow closer, stronger and have amazing memories and stories to share.
My family has gone skiing together for the past 6 years in Steamboat Springs, Colorado — one of our favorite places to ski. Through those 6 years I've learned a lot. Here are 10 tips that I hope will help you as you plan your next family ski adventure.
1. Start packing early.
I usually start packing at least 2 weeks before our trip. It takes a lot of clothing and equipment to ski. For clothing, each of your family members are going to need ski coats
, ski pants
, ski socks
, base layers
, balaclavas
, neck gators
, goggles
and ski gloves or mittens
. It takes a while to gather all of these and to make sure they fit. Always have your family try on their ski stuff BEFORE you go. Kids grow fast and can grow out of ski clothing quickly. As far as ski equipment — helmets
, skis, poles, boots — these can be rented on the mountain, although we have helmets for our whole family. Because we ski so often, it made sense (and saved more money) to buy helmets rather than rent. The same goes for mine and my husband's ski boots. We bought ours. I do not suggest buying kids' ski boot though. They grow out of them way too fast.
2. Pick-up your ski rental equipment the day before.
Lines are usually long at the ski rental companies. By going the day or night before you ski, you (and your family) will be less stressed. This way you can get out onto the mountain the next day in the morning — the best time to ski. When you do go to pick-up you ski equipment, bring snacks and drinks for your kids. It's a long, boring, but necessary, process.
3. Ski school is well worth the money.
Ski school is a wonderful option for your kids. It is pricey, but well worth the money in the long run. In ski school your kids will not only learn how to ski correctly, but they will learn essential safety skills and how to respect the mountain. While your kids are in ski school, parents get a chance to ski together and learn the mountain…without chasing or picking-up kids. For the first several years we put our youngest son in ski school all week, while our two older boys just did 1-2 days each. This last year, the boys had proved themselves as great skiers. No one went to ski school. They skied the whole time with us and made us proud. Thank you, ski school!
4. Have a ski buddy.
Just like with swimming, you must have a ski buddy. Your ski buddy is who you ALWAYS stick with on the mountain no matter what. Each day before you go out, everyone needs to partner up. Even if you are in a big group, you still need a buddy, just in case you get separated from the group.
5. Map it.
Everyone who is on the mountain with you should have a map in their pocket. You can pick up maps at almost all ski lifts. Before you get on the mountain, it's good to go over a map with your group explaining what runs might be the best for certain level skiers. It is also good to show everyone what ski lifts and runs you need to take to get down the mountain.
6. Charge your phone.
This is especially important if you have tweens or teens. Make sure everyone has a charged cell phone before they leave every morning. It's no fun getting separated from the group and then not being able to call because your phone has died. Our rule is, if you want to ski the next morning, you must have a fully charged phone with the ringer on. This goes for adults too.
7. Skiing is an individual sport within a group activity.
Skiing is very much an individual sport, however, when you ski with your family, it is a group sport. Your main focus should be the group—keeping the group together. Skiing with a large group can be difficult, so we have found that breaking up a big group into smaller groups helps. Have a group of more advance skiers go off on their own so they can do Blue/Blacks, Blacks and Double Black runs, while intermediate to beginners should stick together to do Green and Blue runs. Always explain to your group what run you are doing, what ski lift you are eventually going to and who is leading. The leader then needs to ski for a bit and then stop, off to the side, for everyone else to catch up. When we ski my husband is usually the leader and then I'm last, the "clean-up-crew." I pick-up anyone that has fallen. We do switch roles now and then to change things up.
Another point, young kids tire quickly on the mountain. While the adults or teens may be able to ski all day, little ones can't. Take breaks, stay hydrated, eat snacks and know when to call it quits for the day. There is nothing worse than being stuck on a mountain with a kid that is throwing a tantrum because they are exhausted. Know your family's limits!
8. Bring your lunch.
About two years into our annual family ski trips we learned that you can pack your own lunch and store your lunch for a small fee ($2 at the Steamboat Springs Ski Resort in Colorado) at the Thunderhead lodge on the mountain. We were spending between $60-$100 each day just for lunch at the restaurant. It was killing us! We saved so much money by bringing our own lunches. You can do the same, just make sure you check with your ski destination to see what options are available to you for storing your lunches.
9. Stay warm.
There is nothing worse than being too cold when it comes to skiing. We are firm believers in hand warmers
and toe warmers
. They have come in handy, pun intended, so many times. Also, balaclava face masks are a must when it is cold. They keep your neck, and face warm. Kids tend to get colder quicker, so make sure you monitor them well. When it is really cold, we will take breaks and go into one of the lodges for a quick hot chocolate and thaw before we head out again.
10. Be flexible.
This is the most important tip. Skiing is so much fun, but it can be dangerous and hard. Things can change in a blink of an eye—weather, injuries, lost skis. To make sure everyone enjoys themselves, everyone has to be flexible and roll with the punches. It's not about how many runs you do in a day, it is about the time spent with your family having fun, overcoming obstacles and accomplishing something amazing…together.