I scream! You scream! We all scream for ice cream!
What kind of gift SCREAMS summer? You got it, a DIY Ice Cream Gift with these totally cute printable tags! I needed a cute, yet useful, end-of-the-year teacher gift so we could say "thank you" and "enjoy your summer" in one shebang! I think my youngest's teacher and her family will love it. This gift would also be great for graduates, birthdays, teacher appreciation, Mother's Day, Father's Day, Kid's Day (my kids made me say that), or just because you wanted to do something nice for someone. You have three tags to choose from.
You can make one big gift like I did and use all the tags, or just use one of the tags with a gift card to an ice cream shop. However you decide to make your DIY Ice Cream Gift I know it will be well received. Who doesn't love ice cream?!
What you will need:
Instructions:
1. Download the DIY Printable Ice Cream Gift Tags (click on picture and save to your computer). Print at home on card stock or photo paper.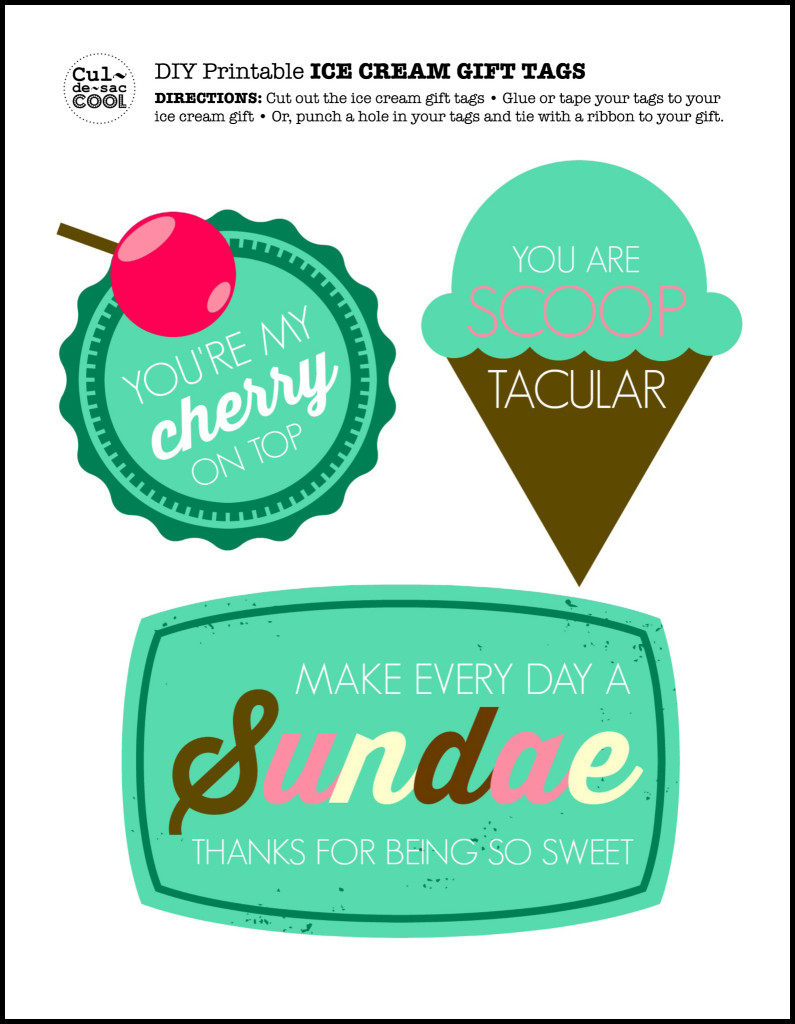 2. Cut out the tags and set aside.
3. Scrunch up your tissue paper and put into the bottom of your jar or container.
4. Hole punch the "Scooptacular" tag and tie it with a ribbon to the ice cream scoop. Tape the "You're my cherry on top" tag to your ice cream shop gift card.
5. Start adding all your items to the jar—ice cream scoop, hot fudge topping, caramel topping, sprinkles, gift card. Make sure they are facing out and can be seen.
6. Secure your lid.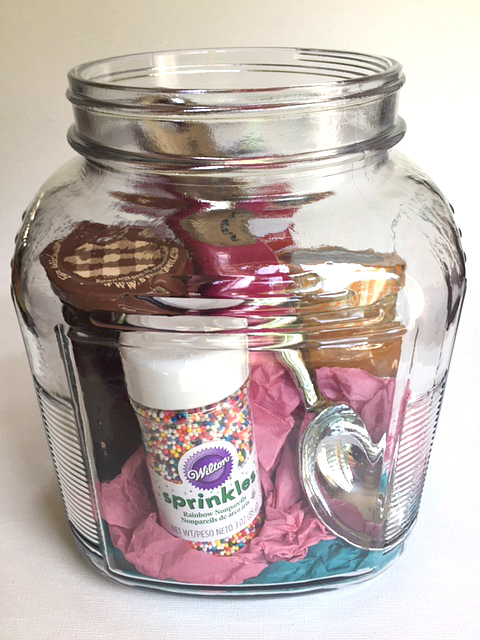 7. Next, hole punch the "Make everyday a Sundae" tag. Using a fun ribbon, attach the tag to the jar.
That's it! The sweetest gift you've every made is complete. Now is the time to decide, do you give the gift away like you were planning? Or, do you keep it for yourself because it's so dang cute and now you really want some ice cream! Happy deciding!!
What are some of your best teacher's gifts that you've given? I'd love to hear about them!!