For some reason, as soon as the snow melts and the trees start to bud, I get an itch to redecorate my home. Before I go and spend any money, I always try to look around my house and see if there is anything I can re-use or re-purpose. I don't know if it is my creative side, my cheap side or my lazy side that drives this train, but when all three of these sides of me come together, BANG, it's awesome!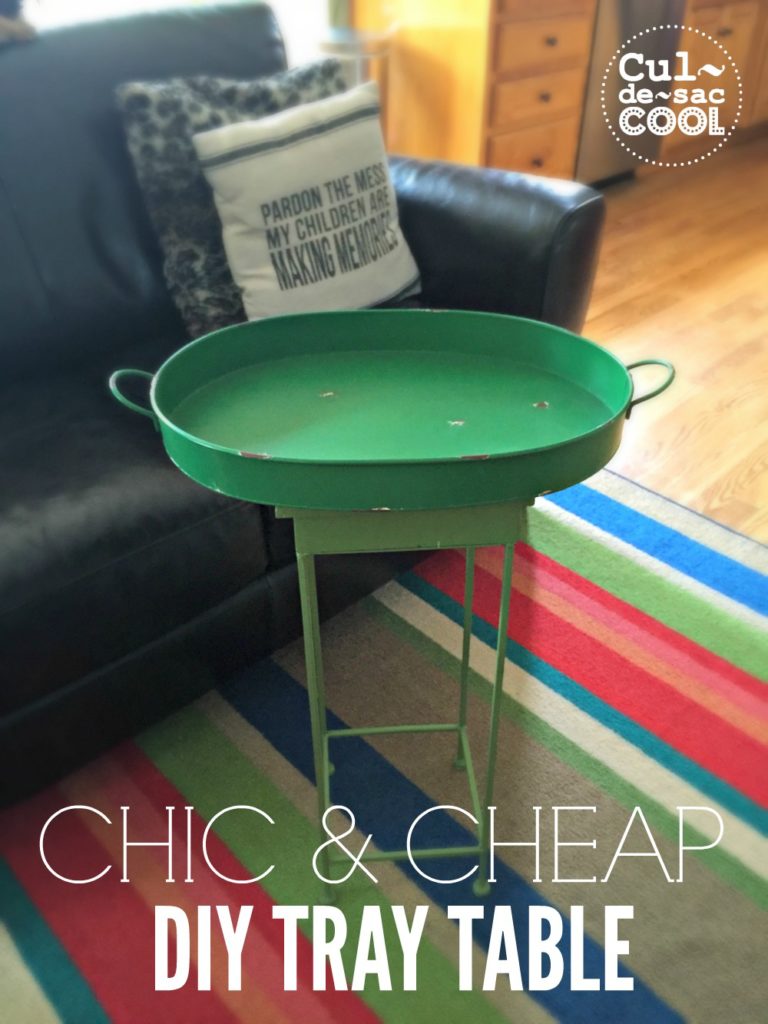 My latest foray into "redecorating with what I have" was this little green plant stand that I had gotten on clearance somewhere a couple of years ago. I loved the color. I loved the height, but it was a bit too small to work as a side table so was always hiding in a corner or closet.
Enter cute green metal tray. I had picked this up last year. Again, I loved the color, but only used it every now and then. For most of the time it was hiding in a dark cabinet, showing off to the other unused trays.
One raining, spring day I remembered I had the tray, and then I thought it'd be cute on top of my green plant stand. All, of a sudden the sun came out, the birds started chirping and I knew what my next project was going to be. But, remember, I'm lazy, and I didn't want to get out any tools to attached this tray to my plant stand. I really didn't want to glue it down either, because maybe I would want to use the tray as a tray sometime? Then it hit me. I had some velcro strips left over from some Halloween costume I'd made. Why not use those? Did I also mention how BRILLIANT I am?
The velcro worked. My little table now lives in my kitchen sitting area and I didn't have to spend any money. Next time you see a cute tray on clearance, snatch it up so you can make a Chic & Cheap Tray Table too. Enjoy!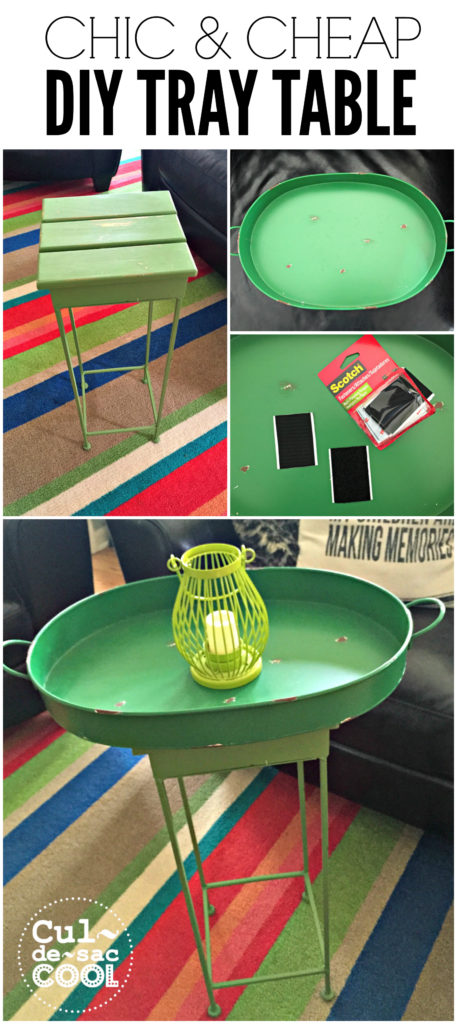 What you will need:
Instructions:
1. Make sure your surfaces are clean and dust-free.
2. Following the instructions on the back of the velcro (fasteners) package. Remove liner on one side and apply fastener to item. Remove liner on second side. Press item against mounting surface. Press each piece firmly together. Audible snap indicates closure. Add additional strips if you want. I ended up using 3 strips for my table.
3. Your table is complete!! When you want to use your tray, pull your tray off your plant stand gently, but firmly to release it.
If you'd rather not make your own tray table, then check this Solid Wood Tray Table out on Amazon.
What are some items around your house that you have re-used or re-purposed? I always need new ideas. Leave me a comment below!!