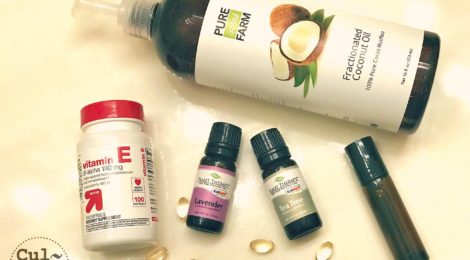 Way back when, I made a DIY Homemade Eye Cream. Well, with my new essential oils kit I received as a gift for Christmas, I've been able to take it a step further and make an all natural DIY Essential Oil Face Serum for Combination Skin using Lavender Essential Oil, Tea Tree Essential Oil and adding in Vitamin E.
The older I get, the dryer my skin gets in areas, but still has oily patches. This is called combination skin, but I call it CRAY CRAY skin. The ingredients of this CRAY CRAY Face Serum all help to relieve dry skin, smooth fine lines, even out skin tone and reduce the appearance of blemishes. I've been using my serum for over a week now and am loving it! I apply my serum using a roll-on bottle morning and night. Good luck making yours. Your complicated, crazy skin will thank you!
*This post contains affiliate links to products I used to create this recipe.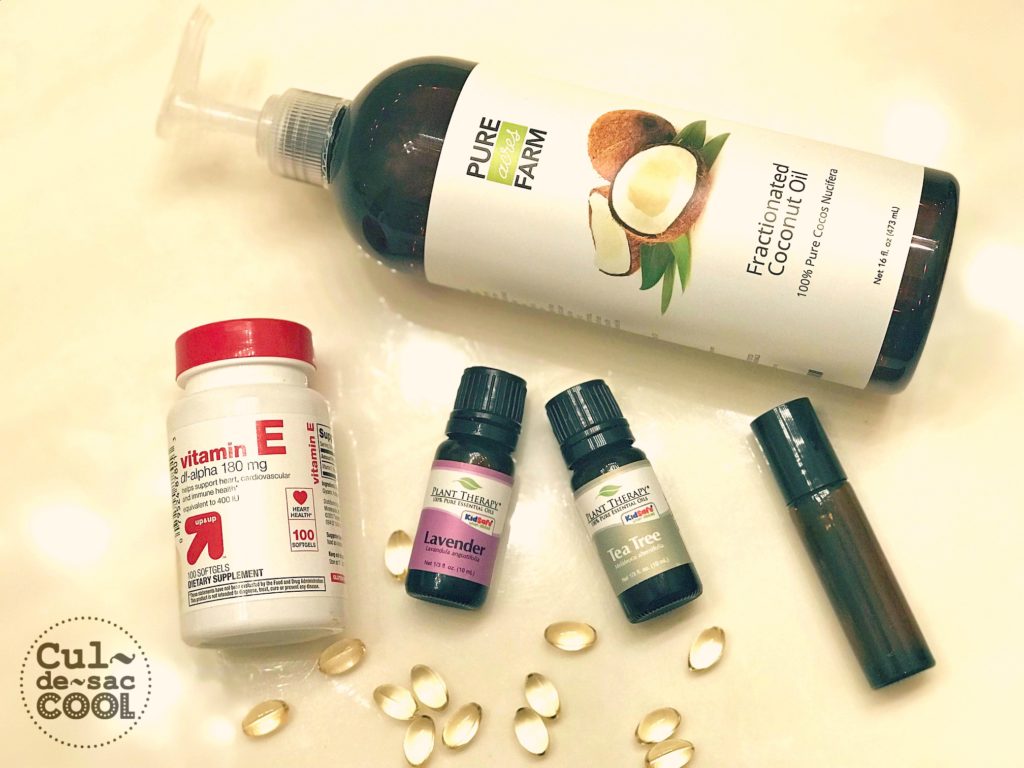 What you will need:
Fractionated Coconut Oil: Coconut Oil acts as a moisturizer, antibiotic, multivitamin, multi-nutrient and antioxidant.
6 Vitamin E Oil Capsules: Vitamin E Oil is a strong antioxidant that prevents premature aging and promotes healing.
Safety-Pin or Straight Pin: To poke holes in Vitamin E capsules.
7 drops Lavender Essential Oil: Lavender Oil has profound benefits on your skin because of its antimicrobial and antioxidant characteristics. It soothes and nourishes the skin — treating acne, healing dry skin, and reducing the appearance of dark spots and scars caused by acne.
3 drops Tea Tree Essential Oil: Tea Tree Oil helps to reduce the bacteria associated with acne, but also gives skin a matte finish when used in cleansers and moisturizers.
Glass 10 ml Roll-On Bottle or Glass Dropper Bottle
Instructions:
1. Poke a hole into your Vitamin E capsules one at a time using a safety-pin or straight pin. Squeeze vitamin liquid into your glass roll-on bottle or glass dropper bottle.
2. Add 7 drops of Lavender essential oil and 3 drops of Tea Tree essential oil to your glass roll-on bottle or dropper bottle.
3. Add your carrier oil of choice. I used fractionated coconut oil. Don't fill all the way. Make sure to leave room for your roller ball or dropper.
4. Shake lightly to mix the oils.
How to use:
1. If using a roll-on bottle, roll the serum on your face (forehead, cheeks, neck, under eyes). Using your fingertips, lightly massage into your skin.
2. If using a dropper bottle, place about a dime to a nickel size amount in the palm of your hand and lightly massage into your skin (forehead, cheeks, neck, under eyes).
3. Be sure to keep out of your eyes.
4. I use my serum every morning before I put on my makeup and then again at night after I've washed my face.
I received a starter kit from Plant Therapy Essential Oils this past Christmas from my hubby. I couldn't be happier with my gift!! I've been diffusing oils constantly ever since (using this diffuser). Out of all the Essential Oil companies out there, why did I choose to go with Plant Therapy? They are a small, family owned company that wants to make the highest quality essential oils at more affordable prices. They are not an MLM (multi-level marketing) company. They sell directly to the their customer. You can also purchase some of their oils on Amazon…what?!!! When I started to research essential oil companies, their name kept coming up over and over with great recommendations. They also have a Kid-Safe line. I'm excited to do more DIY with my essential oils so stay tuned!!