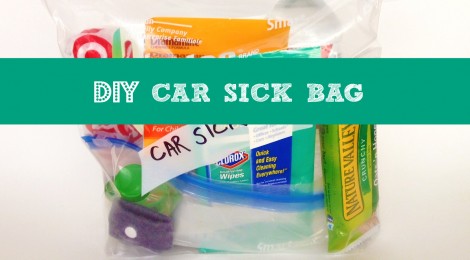 Have you ever gone on a road trip and one of your kids says, "I'm not feeling so good." For me, I dread those words. I know that when I turn around, I will see the palest kid on earth with white lips, a worried forehead and glassy-scared eyes. I will know that he is about to hurl Honey Nut Cheerios all over my newly cleaned car. We take several road trips and often to the mountains, so I've learned how to protect my kids from getting car/motion sickness, but more importantly, how to protect my car from being vomited on. Every mom, dad, grandma, grandpa, aunt, uncle, teacher, bus driver, chauffeur, taxi driver and babysitter needs to make a DIY Car Sick Bag.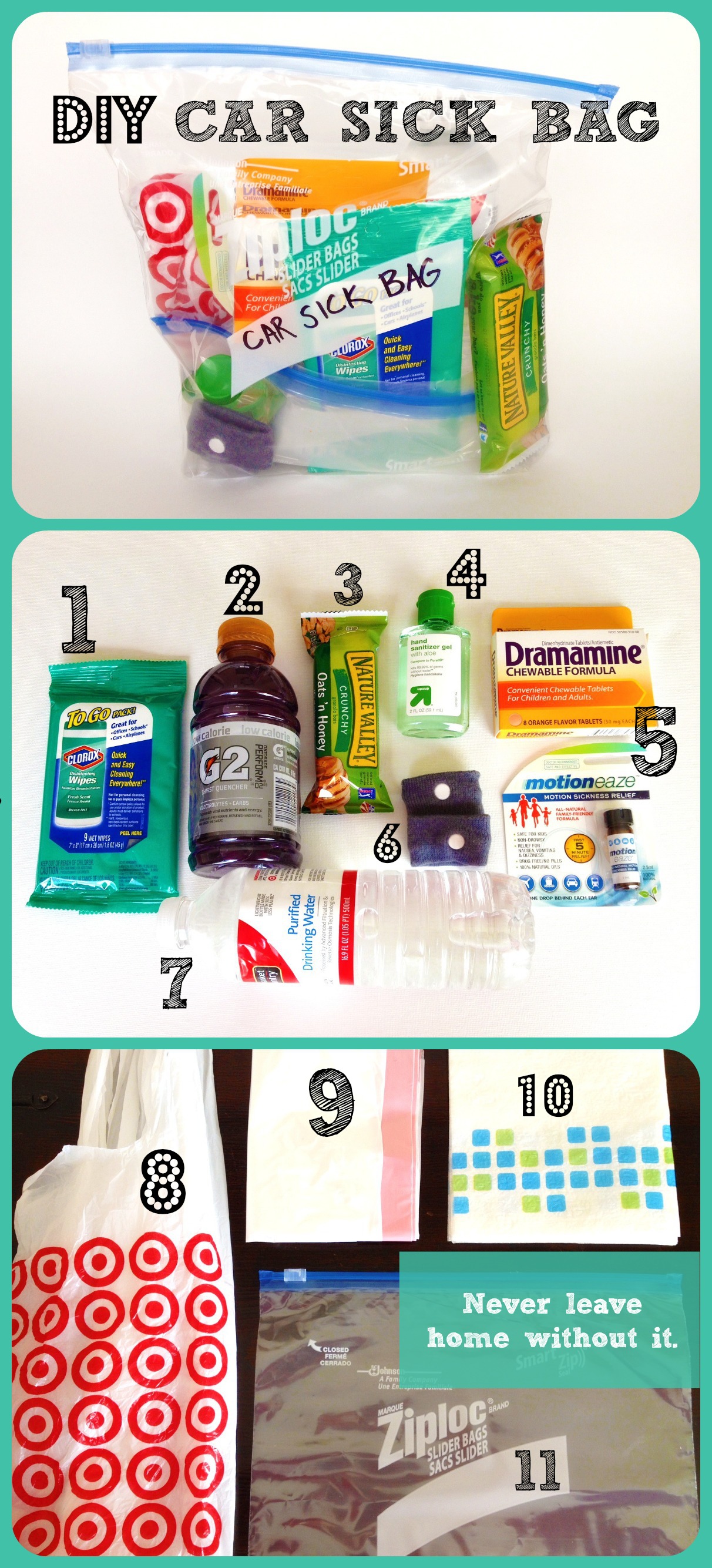 To make your DIY Car Sick Bag, place all the items in some sort of bag, I used a large Ziploc bag, and store somewhere accessible in your car–under a seat, in the middle console, in the glove box, etc. If you store it in the trunk, then it is too far away and too hard to get when you really need it.
1. Travel Clorox Wipes: Yes, to help clean up chunks.
2. Gatorade: To help your victim get re-hydrated or to help your child stay hydrated so he doesn't spew all over his little brother.
3. Light Snack: To help settle your child's tummy or have something in his tummy to take medicine.
4. Hand Sanitizer: To wash his hands…and yours.
5. Motion Sickness Medication: If your child is prone to car sickness, take this before you travel or before you get into the mountains. To make it easier on your child, make sure you have chewable. Read and follow all the directions and talk to your doctor before you give your child this medication.
6. Motion Sickness Wrist Bands: This is supposed to naturally help with motion sickness. We have used these, but I've also given my son Dramamine at the same time…I didn't want to chance it.
7. Bottled Water: Use this to have your child rinse his mouth out, wash his hands, wash his face, wash your shirt…
8. Grocery Plastic Bag: Use this bag as a second throw-up bag or to double bag the Ziploc throw-up bag (#11).
9. Trash Bag: Use this to store items that have been thrown up on like coats, bags, iPads, etc. You could also use it to protect items before chunks start flying.
10. Napkins: Use these where ever needed. To dry hands, face or tears.
11. Gallon Ziploc Slider Bag: This is the most important item in your kit! This is where ground zero takes place. Use this bag for your child to throw up into first. It is easy to seal with the slider and will totally contain the vomit. When your child is done, put this used bag inside of the grocery plastic bag so it is double bagged and won't leak. I usually put 2-3 large Ziplock bags in my kit.
Here is a great article with tips on How to Avoid Car Sickness, but if it can't be avoided you will be so happy you made your DIY Car Sick Bag. Good luck and happy, puke-free travels!