Well, my friends, we are over half way through January. For some reason, this January has become Health Crisis Month for our family. I'm so over it.
The Hubs and I went to LA for a surgery to fix a soccer injury he acquired back in June. His surgery was moved back a day so we had to fly home the day after. Let me just tell you that deep, wide surgical sites don't like air pressure changes the day after surgery. He was miserable on the flight, very swollen but he is slowly getting better…slowly…did I mention it is taking looooooonger then expected?
Last night my almost 12-year-old son, CH, had a "shaking episode" as the hospital called it. I called it a seizure, but was quickly corrected. This is the second one he's had and it was very scary. They are not sure why he is having these episodes. We are heading to a neurologist to hopefully get more answers. I told him if he did it again he was grounded (sarcasm). He said he would promise not to do it again if we got him a laptop (sarcasm returned). I'm looking on Craigslist right now.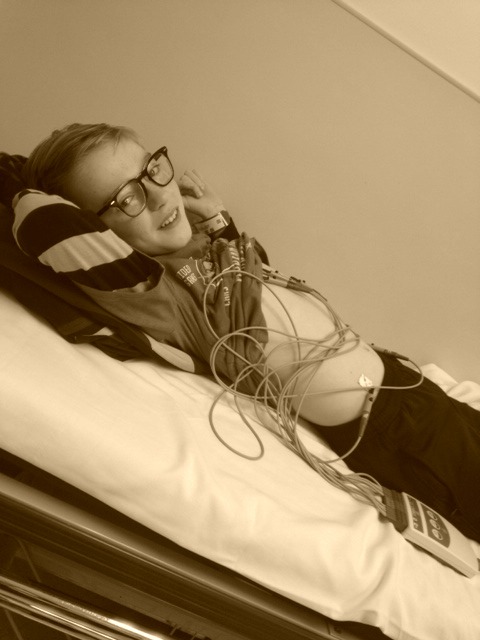 Needless to say, I'm pooped, spent, anxious and emotionally exhausted. As a mom and wife, you have to hold it together for your family to help them heal and recover–not an easy task for someone who has anxiety. I'm generally a positive person, but my positivity is waning right now. To get me out of my funk, I need to list all the positives. Here they are:
10 Positive Reasons Why January Doesn't Totally Suck
My son, CH, is stable right now. He's cracking jokes, smiling and farting like a happy (sometimes gross) little boy.
The Hubs and I had a great 2 Days in LA before his surgery.
The people at Children's Mercy know us by name and have named a room after us. When we walk in the door we are greeted with, "Hello, Mrs. Wilkinson and child. The Wilkinson Suite is ready for you. Enjoy your stay."
The Hubs and I have bonded over ice packs. "Is that an icepack, or are you happy to see me."
I don't have to feel guilty about missing the gym or eating that pan of brownies…right?
My house is super clean and organized…Okay. This is a lie, but I'm trying to be positive.
My youngest, EB, can sleep through anything. Brother seizures, a mom crazily running around having a panic attack and loud phone conversations with the on-call doctor who obviously was having trouble waking up.
Bad, scary stuff happens so you can understand how blessed you are normally. I got it. Lesson learned. I'm blessed. You can hit the road bad, scary stuff.
Through it all, my family is my life whether they are swollen or shaken, I love them more than words can say.
January is almost over, February better be a less stressful month and March is when I will win the HGTV Dream Home.
See. I can be positive.