Hey, guess what? Valentine's Day school parties are less than 2 weeks away!! Don't panic, I'm here with my 12 Coolest Valentine's Day School Party Games — Part 6 to help you plan the best Valentine's party ever. Everyone from preschoolers to 6th graders will be entertained with these fun, easy and age appropriate games. No broken hearts here, but there may be some chocolate-smeared smiles!! Good luck!
PRESCHOOL, KINDERGARTEN & 1ST GRADE
1. Flying Hearts Relay | Cul-de-Sac Cool (Me!)
What you will need:
2 red hearts made out of tissue paper (make extras incase they tear)
2 paper plates
Instructions:
1. Cut several 4-5 inch hearts out of tissue paper.
Directions: Split the kids into two teams. Have the kids line up behind a start line with a tissue paper heart in front of each team. On go, the first person on each team using a paper plate fans their tissue paper heart across the room to the finish line. They then pick up their heart, run back to the front of the line and place the heart in front of the next person. The next person then fans their heart across the room. Keep going until the whole team has gone. The first team to finish wins.
2ND, 3RD & 4TH GRADES
5. Queen of Hearts Matching Game | Cul-de-Sac Cool (Me!)
What you will need:
2 decks of playing cards
Poster board
tape
Velcro
Large bowl or basket
Instructions:
1. Tape one deck of cards to a poster board.
2. Attach a small piece of velcro to each of the cards in the middle.
3. On another a deck of cards, add the other piece of velcro to make matches and place in a large bowl or basket mixing the cards.
Directions: Have the kids line up behind a start line. On go, the first person runs to the board, picks out a card from the bowl without looking and finds the match on the board. They then run back to the end of the line and the next person goes. The person who gets the Queen of Hearts match wins. You can split the group into two teams and have each team go at the same time. First team to get the Queen of Hearts match wins.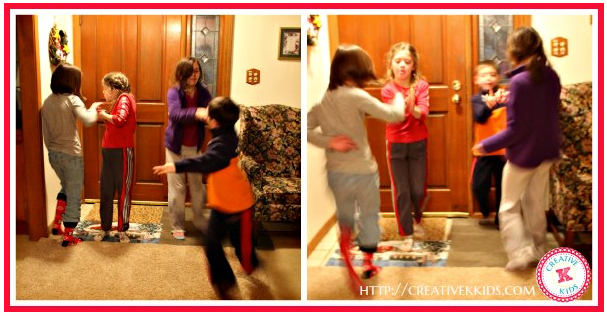 5TH & 6TH GRADES
9. Graffiti Wall | Cul-de-sac Cool (Me!)
Sometimes entertaining older elementary students is hard. I've found that taping paper to a blank, large wall and giving them a bunch of markers to draw/write what they want entertains them for a long time! My rule is that it has to be kind, no mean graffiti! For Valentines's Day you could have them draw or write about something they love (their family, their pet, dancing, sports, etc.) or make it a Kindness Graffiti Wall where they draw/write something kind about someone else.
What you need:
Large roll of art/craft paper (I used paper from our teacher's work room)
Scissors
Painters tape
Markers
Instructions:
1. Cut a large piece of paper from your teacher's work room or art room.
2. Using your painters tape, tape to a long bare wall. This is usually a two-person job. Place low enough kids can sit or stand to draw.
3. I just scatter the markers around below the paper for them to use.
11. Conversation Heart Game | Cutesy Crafts