Easter Egg Hunts don't have to be hum-drum. They can be fun, cool and creative too. Check these out!
1. Easter Egg Get Fit Hunt | ME…Cul-de-sac Cool
Let's offset all those Easter treats by adding in some fun exercise!
What you will need:
Directions: Print and cut out the DIY Easter Egg Get Fit Hunt strips. Place each folded strip in a plastic egg with a treat or trinket. Hide eggs. Once the egg is discovered, the child opens the egg and does the exercise before keeping the Easter treat/trinket. Enjoy!
2. Easter Egg  Hunt Puzzle Game | All Kids Network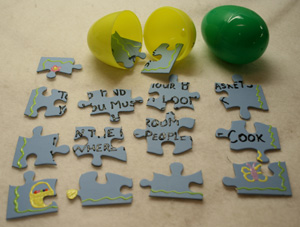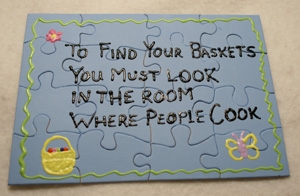 3. Glow-in-the-Dark Easter Egg Hunt | Mommy Savers
4. You've Been Egged, Surprise Easter Egg Hunt | Eighteen25
5. Random Acts of Kindness (RAOK) Easter Egg Hunt | Day by Day
Want more  for your Cool Easter Egg Hunt? Then check these out:
JoJo & Friends Electronic Talking Hide 'Em and Find 'Em Easter Egg Hunt

Kids Easter Egg Baskets by Bearington Collection BUNNY

Meri Meri Easter Egg Hunt Kit