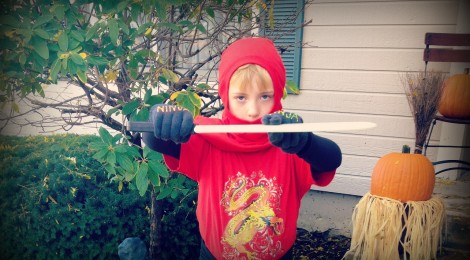 Last year my youngest, 8 at the time, wanted to be a ninja for Halloween. This was possibly one of the easiest and quickest costumes I ever made. Your supplies are few and inexpensive–and there is NO SEWING. I wish every year could be like this. This year he said he wanted to be a PIE. How the heck am I going to make that happen?! Wish me luck!!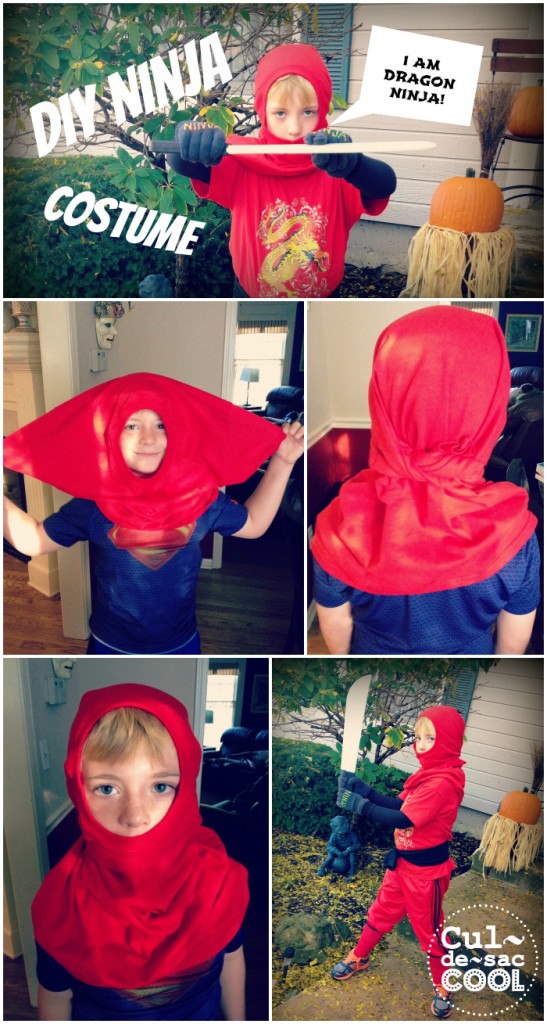 What you will need:
1 t-shirt for hood (Long-sleeve is easiest, but you can use a short-sleeve. For a short-sleeve t-shirt, use a bigger size so the sleeves can be tied in a knot behind your child's head.)
1 t-shirt to wear (same color as "hood" shirt above)
Supplies to decorate your t-shirt that is worn (optional)
Sweatpants
Long socks (we used soccer socks)
Belt (I used an old black scarf to tie around his waist)
$1 knit gloves
Glow-in-the-dark puff paint
Sword
Instructions:
1. For the hood, I put my son's face through the neck hole of a plain red t-shirt, holding the sleeves out to the side.
2. I wrapped the sleeves around the back of his head and tied a knot. That's it! Easy peasy!!
3. Next, we put his second red t-shirt on that he was wearing. We decided to decorated it first. My son wanted to be a dragon ninja, so I found a dragon iron-on transfer at my local craft store, and ironed it on.
4. I bought some cheap knit gloves in the dollar section at Target. Using glow-in-the-dark puff paint, I painted NINJA on each glove.
5. My son wore a pair of red sweatpants that we tucked into a pair of long, red soccer socks. To finish off, we tied a black  fabric scarf around his waist as a belt.
6. Grab a sword and you now are a proud parent of a NINJA!
Good luck with your costume making this year. If anyone has any grand ideas on how to make a PIE costume, please share with me!!!!!