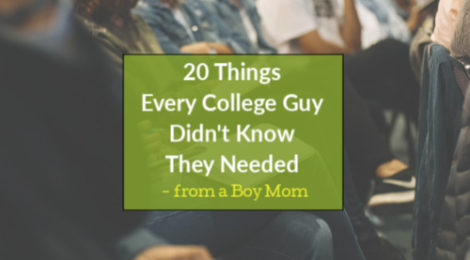 You always see the long lists for what college students need to bring to school. There is the essentials like bedding, towels, clothes, storage, etc., but there are some other items that aren't always on these essential items lists. These are items that college students didn't know they would need. I've got two boys in college right now. Most of these items we had to buy and send after they moved in. Learn from our mistakes!
Beverage Items
Your student will take this water bottle everywhere. They will probably lose this water bottle at some point so it's good to have a back-up. Make sure you get one that seals/screws shut so they can throw it into their backpack without spilling. From experience, I suggest buying cheaper ones :).
Hydrate, hydrate, hydrate. My older son needed this because the water at his apartment was questionable. You want them to drink as much water as possible because they will be involved in many activities that dehydrate them!
No need for them to spend money at Starbuck's when they can make it in their room. Plus, they will need caffeine hits day and night.
See number 3 above. They will need to take their coffee with them, hence the tumbler. Again, I wouldn't break the bank on this because they will probably lose it at some point. It might not be a bad idea to have a second back-up too.
Food Items and Storage
This sucker will get lots of use. We even have one at our home. It only takes 3 minutes to make a great bowl of noodles.
My middle son will be a sophomore at KU this fall. One of his tips is to please send as much microwavable food as possible :).
You only need one of each to have on hand to make or reheat food. You can pick these up at a Dollar Store or just grab some of your old, mismatched stuff from your kitchen to give them.
This is a great storage solution for food (or anything else).
We did this for one of my sons because there was no option for an over-the-door shoe holder. He lived with 40 other boys in one room with bunkbeds and lockers, and no, it wasn't the army, but a fraternity!
Clothing and Accessories
First day of school for my middle son at KU last year, it rained gallons. Staircases became waterfalls. Lots of computers were fried because of wet backpacks. Luckily, my son had put his rain-quarter-zip jacket in his waterproof backpack and put it on. He says after that day, he always carried his rain jacket in his backpack just in case.
Both my boys received an umbrella as part of a high school graduation gift. At the time it didn't seem that exciting, but many rainstorms and walking miles to classes proved those umbrellas were the jam! Get a small one they can throw in their backpack.
Come winter, both my boys were pleading for boots to wear across campus when it was wet and cold.
13. Dress Shoes, Shirt, Dress Jacket and Pants
If you don't have dress shoes, a dress shirt, a dress suit jacket/blazer or pants yet, you better get them. There are lots of "dress-up" times in college. School competitions, school conventions, school trips, formals and parties.
This may seem like a no-brainer, but somehow the most lost items in college for my 2 sons have been socks and underwear. I don't want to know where they have all gone.
See number 10 above. Your kid will be walking a lot outside to get to classes. It will rain. Make sure his or her backpack is waterproof to protect that laptop and homework!!
Your college student will probably be going on weekend trips here or there. Make sure they have a small to medium duffle bag just for this.
Miscellaneous
Phone charges are like socks and underwear. They disappear all the time. Buy some extra!
Both my boys requested flags when they went off to school to decorate and to use for privacy (hanging from ceilings or bunkbeds). These flags are usually lightweight, yet large and fold up nicely. They can be used year after year, unlike posters that usually rip when you take them down. Check these out: City Flags, Sports Flags, College Flags
Everyone loves mood lighting and this is the simplest and cheapest way to get it.
You don't know how many phone calls I got because someone was sunburned. Send sunscreen and pray they use it, but most importantly, send Aloe Vera Gel for when they don't use sunscreen.
I hope this list was useful and good luck sending your babies off to school!