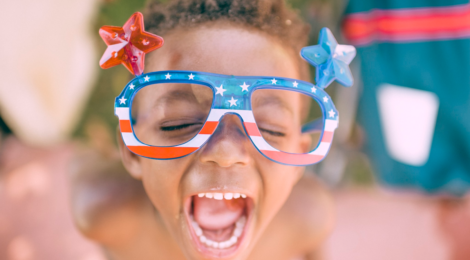 Even though this 4th of July might look a little different than last year (Pandemic 2020), doesn't mean we can't have a blast with our family at home. With a little planning, your family can have a great day and stay safe and healthy at the same time. Enjoy!!
1. 4th of July Chalk Art
Have a photo shoot with the whole family on the driveway or front sidewalk after you draw some amazing patriotic chalk art!
2. Family Bike Parade
No parades this year because of the pandemic? No worries. Decorate your own bikes and make your own family parade riding around the neighborhood hooping and hollering.
3. Family Water Games
Who says the whole family can't play in the hose together? Cool off during your 4th of July celebration while playing these fun games!
4. Outdoor Huge Bananagrams Game
This looks like so much fun and would be great for families with all ages, especially older kids/teens. Here are the instructions for Bananagrams: How to Play Bananagrams.
You will need lots of cardboard…put those Amazon boxes to work. Over at Constantly Love Struck, they made their tiles 12×12, but you can make yours whatever size you want. Maybe just 8.5×11 printed on cardstock would be a lot easier! Here is how many tiles you need:
2: J, K, Q, X, Z
3: B, C, F, H, M, P, V, W, Y
4: G
5: L
6: D, S, U
8: N
9: T, R
11: O
12: I
13: A
18: E
5. Glow in the Dark Games
Once the sun goes down, bring out the glow sticks! Adding glow sticks to some ordinary games makes them extraordinary!
Make your own DIY Outdoor Movie Theater. Follow the below directions from the Toolbox Divas:
6. Not Your Normal Movie Night
Make the 4th of July night a little more special by watching a movie in a different way. Movie Night in the backyard, in the garage, on the deck, patio or front porch or maybe in the living room under a blanket fort.
Here are some suggested movies:
Hidden Figures – PG
Forrest Gump – PG13
Independence Day – PG13
National Treasure – PG
The Sandlot – PG
The Peanut Butter Falcon – PG13
Captain America: The First Avenger – PG13
Moonrise Kingdom – PG13
Lincoln – PG13
Apolo 13 – PG
The Right Stuff – PG
Hope you have a happy 4th of July. Stay healthy and safe!!