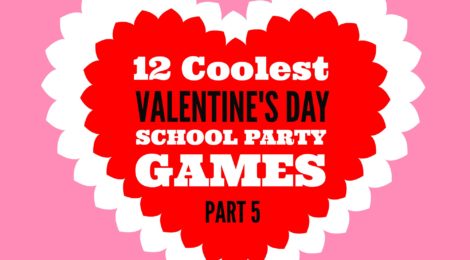 I know it feels like you just put away your tinsel, jingle bells and holiday school party supplies, but guess what? It's now time to bring out the hearts, chocolates and pink construction paper for your next school Valentine's Day party! Wahoo!!!! You may be smiling on the outside, but I know deep down you are grimacing on the inside. Don't worry, I'm here with my 12 Coolest Valentine's Day School Party Games — Part 5 to help you plan the best Valentine's party ever. Everyone from preschoolers to 6th graders will be entertained with these fun, easy and age appropriate school party games! Good luck and Happy Valentine's Day…darn it!
PRESCHOOL, KINDERGARTEN & 1ST GRADE
1. Draw a Love Bug Dice Game| Cul-de-Sac Cool (Me!)
What you will need:
Directions: Players take turns rolling the dice. The number they roll determines what part of the love bug they can draw. First person to draw a complete love bug wins.
2. Valentine Monster Alphabet and Sight Word Game | I Heart Crafty Things
3. Lift-the-Flaps Valentine Game | Preschool Toolkit
2ND, 3RD & 4TH GRADES
5. Heart Marshmallow Toothpick Structures | Buggy and Buddy
This isn't exactly a game, but you could make it into a game. Divide the kids into groups and have them make some kind of structure like a bridge or building that has to be a certain length or height. Whichever team finishes their structure using all their materials within the timeframe given wins!
5TH & 6TH GRADES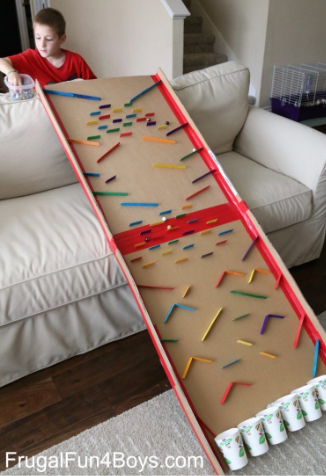 To make this into a competitive game, number the cups at the bottom: 5, 10, 20, 20, 10, 5. Let players have three marbles, so three turns at a time. Whoever gets the most points wins!
10. One-Handed Bracelets Minute-to-Win-It Game | Teach Mama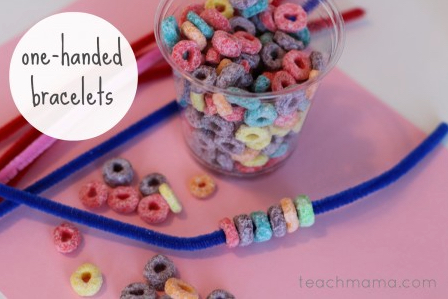 11. Valentine Balloon Stomp | Saugeen Times
This looks like such a fun game, but instead of green, use pink and red balloons for Valentine's Day!
Not wanting to make your own game, then check these out from Amazon:
Valentine Cootie Catcher Super Valentine Card Pack
Valentine Bingo Game + Pin the Heart on the BEE Game