Hello, My Name is Becca and I'm an air fryer addict.
Yes, you heard me right. I received an air-fryer for Christmas. Ok, I actually received an insta-pot, but the day after Christmas I was exchanging it for an air-fryer and I'm so happy that I did!!! I've been air frying up a storm and my family is loving it.
What is an air-fryer? An air fryer is essentially an amped-up countertop convection oven. Its compact space facilitates even faster cooking. The unit holds a heating mechanism and a fan. Hot air rushes down and around food placed in a fryer-style basket or drawer. This rapid circulation makes the food crisp, much like deep frying. We have the Ninja Air Fryer because it is also a dehydrator. We make our own dehydrated apple chips which my boys devour.
So far, I've air fried bacon-wrapped chicken breasts, pork chops, mushrooms, french fries, cauliflower tots, kale, hot dogs and buffalo chicken wings (my boys' favorite). I ran across this Chicken Shawarma recipe and I thought I could adapt it for the air fryer. It turned out delicious!! Whip up the easy yogurt sauce to serve with the chicken shawarma and a greek salad and you have a flavorful, healthy, Mediterranean meal.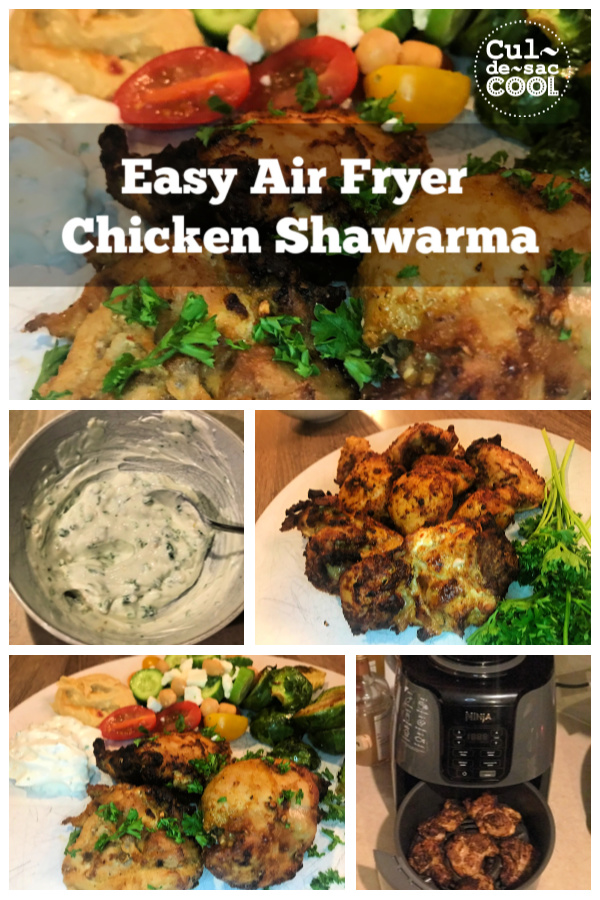 Easy Air Fryer Chicken Shawarma
Prep Time: 0:5 Cook Time: 0:25 Serves: 4-6
Ingredients:
FOR THE CHICKEN:
6-12 chicken thighs boneless skinless
(I used 12 thighs, so I made it in 2 batches)
2 tsp – 1/4 cup lemon juice
2 garlic clove minced
2 tsp ground coriander
2 tsp ground cumin
1/2 tsp ground cardamom
1/2 tsp smoked paprika
Salt
Black pepper
1 Tbs olive oil
FOR THE YOGURT SAUCE:
1/2 cup plain Greek yogurt
1/4 cup chopped parsley
1 clove of garlic minced
1 tsp of lemon juice

Instructions:
1. In a large plastic bag, combine the chicken, lemon juice, garlic, and spices. Make immediately or marinate 1-2 hours.
Preheat your air fryer following the manufacture's instructions for your particular air fryer. (My Ninja Air Fryer needs to be preheated at 390 degrees for at least 3 minutes).
2. Air Fry your chicken thighs using the manufacture's instructions for your air fryer, turning the chicken thighs over half way through. (My Ninja Air Fryer instructs me to cook boneless chicken thighs at 390 degrees for 18-22 minutes, turning thighs over half way. I cooked mine 10 minutes on the first side and 8 minutes on the second side).

3. While your chicken is cooking, in a bowl, combine the yogurt, parsley, garlic and lemon juice to make your yogurt sauce.
4. When your chicken is done, let it rest on a plate for about 5 minutes.
5. Serve your chicken with the yogurt dipping sauce along with a nice Greek salad and some hummus.

Notes:
Each air fryer is different. Follow your air fryer manufacture instructions on preheating and cooking at the correct temperature used for boneless chicken thighs.