I love maps. I always have. With the use of navigation apps on our phones and computers, we don't use maps anymore. I'm showing my age here, but back in the 1890's we had to look at a map before we left the house to figure out where the heck we were meeting up with our friends. That's after a long phone conversation on the kitchen-tethered phone that you would make the cord stretch all the way to bathroom so you had some privacy while talking.
But, I digress.
Back to maps and their coolness. Maps are colorful, interesting and educational. They are great way to incorporate some vintage fun into your home design. These are 5 of my favorite ways to use old maps (2 of which are mine). If you have any more ideas, I'd love to hear from you. Happy exploring and creating!
1. Hang an old map as art.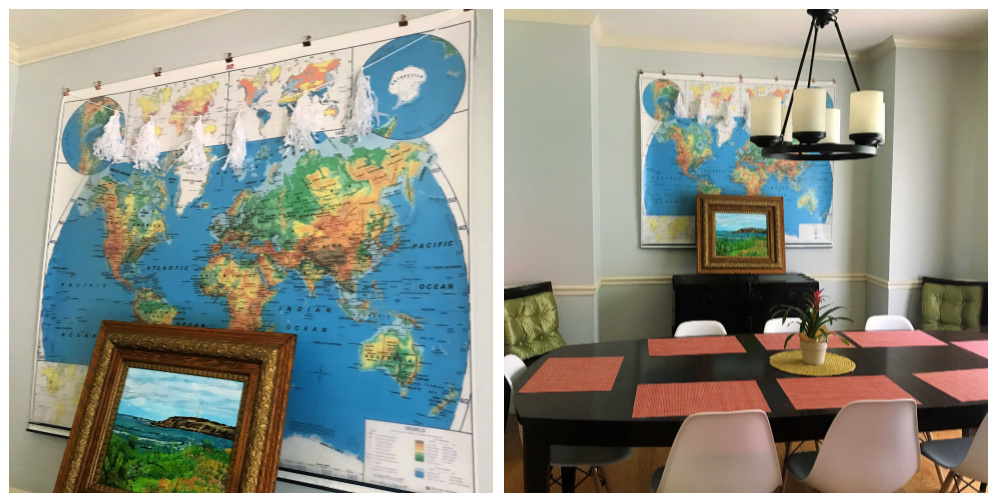 My husband picked up several old maps from an elementary school that was being torn down. This world map was one of my favorites. It was a pull-down, roll-up school map that had a heavy metal base. We didn't want to mess with hanging such a heaving contraption, so I cut the map off the metal roller. We then hung it using gold binder clips and picture nails. Make sure you measure to get it level and even. I absolutely love it and I think It makes my dining room fresh and cool with a touch of vintage charm. Of course I had to paint the walls and get new dining chairs too. I love the final product.
2. Decopauge maps onto a cheap table.
When my parents moved out of their house, my mom gave me an old world map. After I came across two new, neon yellow end tables from Target that were on clearance for $5 each, I finally figured out what I wanted to do with that old map…make 2 COOL DIY MAP TABLES. To see the full instructions, go HERE!
3. Use maps to update old chairs.
I'm in love with these chairs. I'm going to hunt down some cheap, old wooden chairs at garage and yard sales to make some for myself. For the full instructions, visit PillarBoxBlue.com.
4. Make a map magnetic memo board.
This project is adorable, functional and fairly easy. I think I need to make some of these for my kitchen! For the full instructions, visit FoxHollowCottage.com.
5. Add a map to french doors for privacy.
What a great idea and it would work on a window also. We have french doors in our basement that this would be perfect for. For the full instructions, visit PaulandChrissy.blogspot.com.