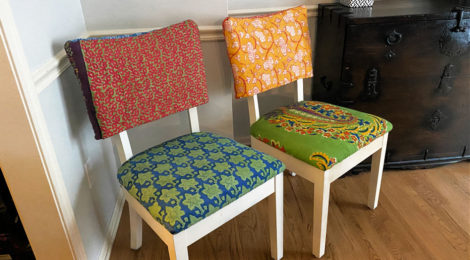 I'm not one to shy away from color or pattern. The more the merrier. I've had these two drab, brown dinning room chairs hanging around my house being boring, brown blocks of blahh with flaking pleather. It was time for a makeover. Enter my favorite, colorful, funky, bohemian Anthropologie quilt.
We used this quilt back in the day when we had a queen bed, but now we have a king and crazy quilt ended up in the closet. Poor thing.
Well, now she is out of the closet and living her best life in my dining room. I give you The Bohemian Dream Chairs 1 & 2!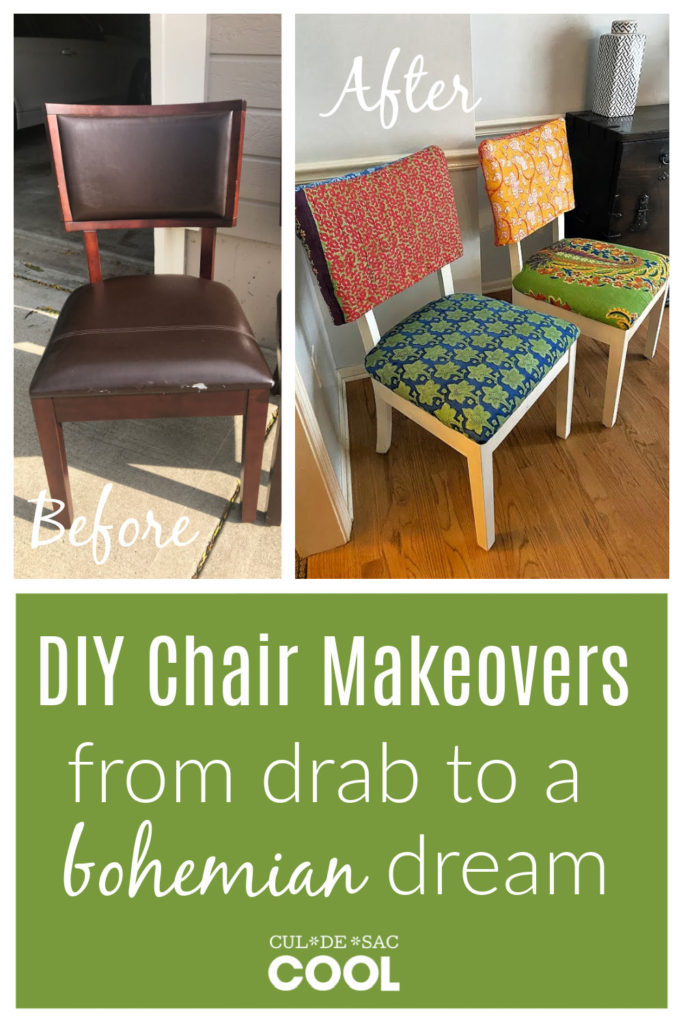 Below are the steps I took to make these adorable chairs. I'm not an expert and usually make things up as I go, but luckily it worked out and the chairs look great.
What you will need:
1 or 2 boring chairs
Spray paint (I used Painter's Touch 2X in Heirloom White)
Polyurethane (optional)
Fabric of your choosing (I used an old quilt, but this Quilt would be adorable)
Scissors
Screw driver to take off seats to recover
Sewing pins
Thread and needle
A smile 🙂
Instructions:
1. First, make sure your chair is clean. I did not take the seat off before I painted, mainly because I was lazy. You probably should take the seat off and set aside. Spray paint your chair frame using slow, steady strokes. Let dry in between coats. I did about 3 coats. You might want to also do a couple coats of Polyurethane to help protect your paint job from nicks and scratches.
2. Next, cover your seat in fabric using a heavy duty staple gun. Make sure you pull the fabric tight and keep flipping the seat over as you go to make sure there are no wrinkles. Trim any extra fabric. Once your chairs are dry, reattach your seat to your chair frame.
3. Now the backs of my chairs (the pleather insets) do not come apart, so I decided to just make a back slip cover. I measured two rectangles of different fabric (one front, one back). Using sewing pins, I pinned the fabric around the chair inside-out, trimming extra fabric as I went. I then pinned a hem all around the bottom. Next I got out my thread and needle and hand-sewed my slip covers. When you are done, turn your slip covers right-side-out and shimmy it on the back of your chair. So cute!!
I'm so happy with the results and have even more quilt fabric leftover to cover a tired, used and abused office chair. Stay tuned and good luck making your own bohemian dream!!